This is the English translation of the feature about TUA, a strange German queerdo who has retired from so-called normality and only does what he enjoys. The original article is published in German language in the issue number 14 of the magazine.
I am so happy to be this way and thankful to be able to live in a country where I can also do this without being beaten, arrested, or killed.
Through extraordinary fashion and cross-dressing, my life has become a different one: richer, more loving, and fulfilling.
In feminine or extravagant clothing, I feel much more beautiful and lustful. With the help of these clothes, it is also easier for me to express my wonderful attributes outwardly. Cross-dressing unfurls that tender, vulnerable creature in me that I had kept hidden for so long. My inner woman is allowed to come to light and proudly show herself with all her desires, no matter how peculiar. Unabashedly, I can take center stage and be celebrated for it. Mockery and disapproval pearl off me. If someone whispers something nasty behind my back, then I know one thing for sure: I am in front.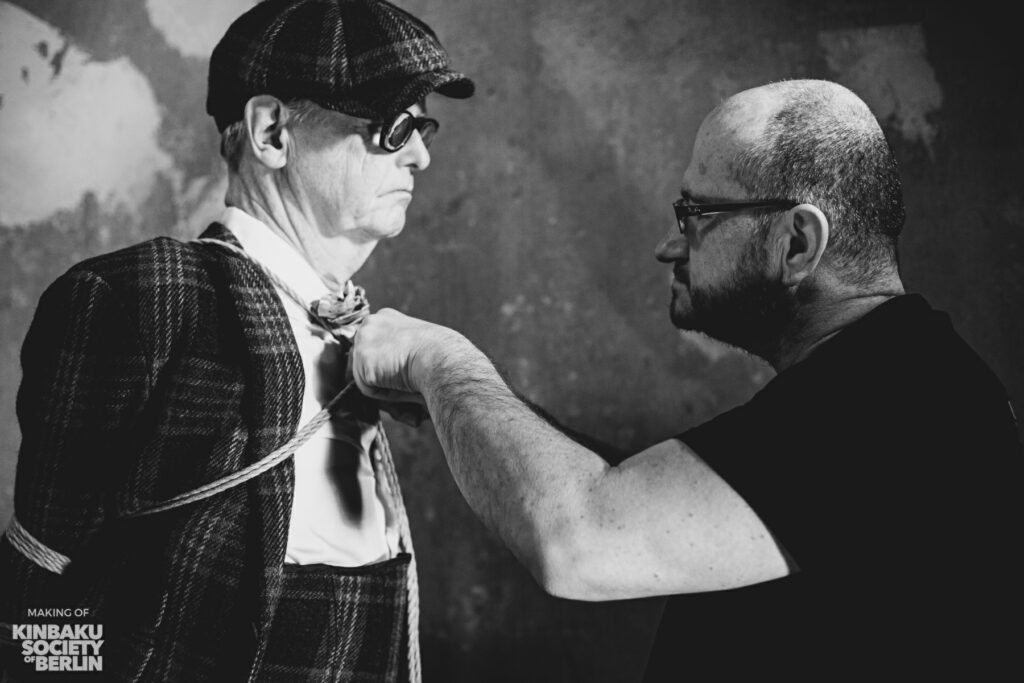 Expressed through my dresses and tailor-made suits and through corresponding things such as hats, masks, corsets, high heels, nylons etc., my unique style helps me to slip into different roles and embody these accordingly.
Trollopa Trash1
Is a carefree slut, who takes nothing too seriously, not even herself. Cheerfully, she jumbles all styles together and provokes with her bad taste, naughty behavior, and sass. Only through the restraint offered by rope can she be kept in check. Indecent remarks are best prevented with a gag.
The wackier, the better, that's Trallopa's motto. Whether in a white tutu, lit up colorfully from the inside, with a long plastic skirt and bullet bra made from a shower curtain, or in a shrill orange dress, invariably she'll shock everyone in her getup.
She is a first-class queerdo who simply refuses to fit in any box. When Trallopa takes the reins, I like to be unruly and make fun of everyone and everything.
1 Trollop is a somewhat dated word for a disreputable, vulgar, and promiscuous woman.
Abigail2
Is a devoted maid, who is eager to please her rulers. Once in a maid outfit, she is submission itself. Ropes are a reward, but, in the rare event of a mishap on her part, they can also serve as a punishment.
When Abigail emerges and is of service to someone, she always serves in memory of the duchess who made her into the Abigail she is. If you collar her as a sign of ownership, she becomes entirely submissive and surrenders herself fully. She will then serve with every fiber of her being, fully absorbed in belonging to someone and doing everything for him or her. Her white pinafore is always pristine and meticulously ironed. If desired, she can also carry out the housework in a latex outfit. After completing her work, she enjoys kneeling in front of her mistress and savors it when she may lie tied in front of her as a reward.
2 Abigail is both a common name, and an archaic term for a lady's maid.
Paula Porsche
Is someone who draws attention everywhere because of her extravagant getup; next to her, one is practically invisible. She is exhibitionistic, prefers to stand or hang in the spotlight, and thus be in everyone's way. In rope, she likes to be shown off.
When I slip on my precious, genuine nylons, put on a beautiful dress and my blond wig (which makes me look years younger and totally innocent) or the red wig (which fully transforms my look, more dangerous, lustful) then Paula Porsche has arrived and fully commands the scene. A dear friend brought her to life and is not ashamed to be seen with her in public. Paula holds her in great esteem for that. In her extravagance, she exudes a luminous aura that no one can truly resist. When Paula goes dancing, she is happy. She loves the attention she gets when performing in public. To take up even more of the spotlight, she'll sometimes let herself be tied up.
The Duke
Is a textbook dandy, laced in corsets befitting his suits he not only radiates an aura of perfect snobbery, but, so dressed, lives out his dominant desires uninhibited. Only someone far more dominant and aided by ropes would be able to keep him from terrorizing the domestics.
When I put on my white shirt, freshly ironed by the maid, fashion my bow tie or cravat, slip into my bespoke suit pants, and tightly lace up a corset matching the fabric of my suit, the Duke appears as if summoned by magic.
A dominant energy flows in me, I enjoy my boastful posture, the elegance of my appearance, my power, and the fear of my subjects, with whom I can do as I please. With a whip in his hand, the duke is happy; if someone should submit to him of their own free will, he really loves his life.