The Kinbaku Society of Berlin Magazine
We produce this magazine for your delight, as well as our own! It is a non-commercial project; we do not make any money. We produce issues quarterly, with availability announced on our social media channels, as well as in our newsletter and Telegram channel.
You can buy the magazine online or you can get them from our physical pick up points.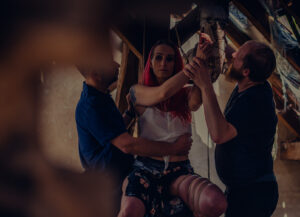 The Kinbaku Society of Berlin
The Kinbaku Society of Berlin is a forum initiated by a group of enthusiastic, creative people who enjoy coming together to study Kinbaku, and the sublime eroticism connected to it. We strive to understand historical and contemporary Japanese conceptualizations of beauty and how we can translate them within European culture. Our hope is to formulate an original expression of Kinbaku that respects its' Japanese origin without appropriating it.
The results of our studies are presented in a printed quarterly magazine, in the form of poetry, novels, articles, documentation, drawings, and images.
Anyone who is open to studying Kinbaku in line with our intention is welcome to join us!
Submissions
The Kinbaku Society of Berlin has a mission to encourage research, creativity, and development within all rope lovers.
Whether you are a reader or a content creator, you are an important part of us! And we want to be more explicitly open about this and let you know that we are interested in what you have to offer! If you have content that you think might be appropriate for the magazine, then we would love for you to submit it: this can be done by going to our Submissions page!